Effective all natural Skin Regeneration and Scar Repair Treatment from Europe is now available in Canada.
Skin rejuvenation, stretch marks, scars, acne scars, wrinkles, pigmentation and much more can be treated with Dermaroller in our Richmond Hill office.
Genuine Dermaroller® is a gentle, non-ablative, non-surgical, minimally invasive procedure for skin improvement. Known as Collagen Induction Therapy (CIT), its therapeutic benefits have been proven through numerous clinical studies published in a variety of medical journals.
Who can benefit from a Genuine Dermaroller® Treatment?
The Genuine Dermaroller®, manufactured in Germany, is a patented device scientifically proven to improve skin structure and appearance.
Skin smoothing and lifting for aged and sun damaged skin
Surgical, wound, burn and acne scars
Facial and décolleté lines and wrinkles
Stretch marks
Open enlarged pores
Pigmentation irregularities
What is the Genuine Dermaroller®?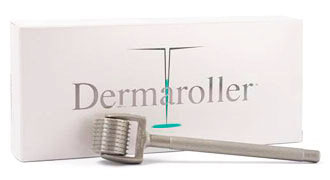 The Genuine Dermaroller® is a sterile drum studded with very fine needles. It is a medical device used to stimulate skin cells to multiply resulting in the formation of new elastin and collagen fibres, as well as in new capillaries for an improved blood supply.  You can enhance the results of your Dermaroller treatment with the Home-Care Dermaroller.  It can be used on a daily basis at home in between your genuine Dermaroller sessions.
How does the Genuine Dermaroller® work?
Collagen Induction Therapy (CIT) stimulates skin to produce new collagen and elastin to visibly improve the tone, texture and youthful appearance of your skin. A Genuine Dermaroller® medical device is used to produce thousands of microscopic needle-columns in the skin.  To provide you with the most comfort during the procedure we will use a topical anesthetic to numb the skin. It takes up to 30 minutes for the topical anesthetic to work and 20 to 30 minutes for the Genuine Dermaroller® Treatment procedure.
After a Genuine Dermaroller® treatment, new skin cells are generated and blood supply is enhanced. First signs of improvement are seen after 4 to 6 weeks and the process will continue over the following months, providing gradual and long lasting enhancement.
Before and After Photos for Dermaroller treatments*
Aged skin with wrinkles and pigmentation irregularities
3 months after 1 treatment

before

after

Atrophic scar, 1 month after 1 treatment

before

after

Stretch marks (Striae) 2 months after 1 treatment

before

after

*Individual results may vary.
How quickly will I see results?
Visible signs of skin rejuvenation are seen after just 4 to 6 weeks following a Genuine Dermaroller® procedure and continue for up to a year. You may require a few Genuine Dermaroller® sessions (the frequency is recommended during your first appointment), at 6 to 8 week intervals, to achieve optimum results.
Unlike many other skin rejuvenation treatments, you will notice great skin improvement after just one treatment.
How many procedures are required?
A series of DeepIR Skin Tightening treatments at 4-6 week intervals may be required to achieve the desired results.  We individually assess each patient and adjust regimens accordingly for the best possible outcome.