Infrared Light Skin tightening is available at our clinic in Richmond Hill.
Infrared (IR) Skin Tightening
Why does one need it?
Elasticity is one of the properties of the skin that gradually fades with aging. Skin can stretch, but most importantly, it can shrink back - all because of its elasticity. With age, the skin's ability to shrink back from a stretched position diminishes, which causes a loose and saggy appearance as well as the formation of wrinkles.
When stretched for a long time, like in pregnancy or after weight loss, the skin may not get back to its previous shape, even at a young age.
Skin tightening helps the skin to produce new young cells, collagen and elastic tissue, and to increase the skin's ability to gain its previous shape.
What can we do?
At Dr.Robertus Laser & Cosmetic Clinic we offer the revolutionary technology of skin tightening that works through infrared light and uses fractional beams to stimulate the body's natural healing response. Unlike other skin tightening systems available on the market, fractional beams of infrared light leave small unaffected areas in the skin, which makes the skin tightening healing process much faster and more effective.
What areas can be treated? Is this treatment safe?
DeepIR Skin Tightening is safe on most areas of the body, including the face, stomach, legs and arms. The fractional method used in DeepIR Skin Tightening is much safer and more comfortable than the bulk heating approach used in other devices on the market because DeepIR Skin Tightening leaves areas of unaffected skin, promoting faster regeneration.
DeepIR Skin Tightening also uses 3-stage cooling. It cools the skin before, during and after each light pulse, so you feel little discomfort during treatment.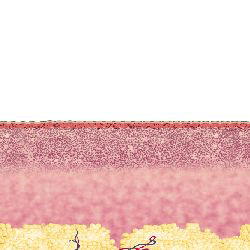 What happens during the procedure?
The equipment used in our clinic is specially designed to tighten the skin. During the procedure, the hand-piece is moved over the skin, delivering arrays of infrared light to the dermis. The light creates heated columns in the skin, which are surrounded by unaffected areas. The unaffected tissues promote a healing response and create a skin tightening effect.
What can I expect after the procedure?
You may experience redness, warmth, swelling, or tightness in the treated area, which typically fades within a few hours of treatment.  Generally, you can receive DeepIR Skin tightening treatment and go back to work or to other activities without any recovery time.
Before and After Photos of Deep IR Skin Tightening*,**

before

after

*Individual results may vary.
**Images are courtesy of Palomar Medical
How many procedures are required?
A series of DeepIR Skin Tightening treatments at 4-6 week intervals may be required to achieve the desired results.  We individually assess each patient and adjust regimens accordingly for the best possible outcome.